Park City Roofing Company - Far West Roofing
Park City is absolutely one of the most beautiful places in the eastern Salt Lake City area and one of the country's most popular ski destinations. As one of the most famous winter destinations in the whole country, Park City is accustomed to wintry weather, including heavy snow, ice, and sleet. Property owners throughout the Park City area should know the value of working with the right Park City roofing company when they need new roof installations, repairs, or roof maintenance any time of year.


Far West Roofing is proud to offer more than 25 years of professional roofing experience to Park City, Utah, property owners. We know the area and the common roofing problems faced by residential and commercial property owners here.
Common Winter Roof Problems in Park City, Utah
Nestled in the Wasatch Range mountains, Park City is home to some of the best ski resorts in the US. Winters in the area are typically cold with plenty of snowfall, and area property owners are accustomed to winter-related roof problems of all kinds:
When snow melts and refreezes on a roof's surface, it can eventually damage the roof's outer covering if moisture can seep into cracks and crevices before refreezing. When temperatures fluctuate repeatedly, the rapid expansion and contraction can break roof shingles and even lead to water damage inside of the property.


Ice dams can form on roofs when gutters cannot properly divert rain and melting snow off of them. An ice dam is a large sheet of ice frozen in a layer toward the bottom of a roof's slope. As more melting snow accumulates on the ice dam and freezes, the ice dam grows and will eventually dislodge from the roof's surface. This can not only damage the roof covering beneath and the gutters below the ice dam, but it could also cause injuries or property damage when it crashes to the ground.


Heavy winter storms can easily damage roof coverings, dislodge roof shingles, or even damage gutter systems. It is common for Park City property owners to require roof repairs or professional maintenance after severe winter storms.


Gutter damage is possible from clogging, poor installation, heavy winds, and simple wear and tear. A Park City roofing company is the best choice when you need to have your home's gutter system repaired or replaced. The team at Far West Roofing can even recommend additional water protection like gutter guards and more efficient drainage systems.
These are just a few of the common winter roofing problems Park City property owners are likely to experience. When these issues appear, it's essential to choose the right Park City roofing company to ensure your roof is back to top condition as soon as possible.
How to Choose the Right Park City Roofing Company
Choosing the right team to assist you with your roofing problems is a crucial decision. Ask your family, friends, and neighbors about their experiences with local roofing companies if any of them have had their roofs repaired or replaced recently. Research your local roofing options and find a roofing company with a solid track record of successful projects and plenty of positive reviews from happy past customers. Be sure to check reviews on third-party sites to ensure the roofer has not curated only the best reviews to appear on their website.
The first step in addressing any roofing issue in Park City is arranging a professional inspection of your home. A homeowner can typically perform a basic visual inspection by walking around their house to check the roof's exterior and peeking into the attic or crawlspace to inspect the interior. However, the average person may not know how to spot the signs of a roof in need of repair or replacement. It is always best to hire a professional team to inspect your roof to determine your best options.

In some cases, roof repair is the more practical choice and can extend an existing roof's functional lifespan for many years. However, if a roof has been damaged and the damage was left unaddressed for too long, it is possible that the structures under the roof's outer covering may be damaged and need replacing. A reliable Park City roofing company should be able to accurately identify any issues with your roof and recommend the most effective and practical solutions available.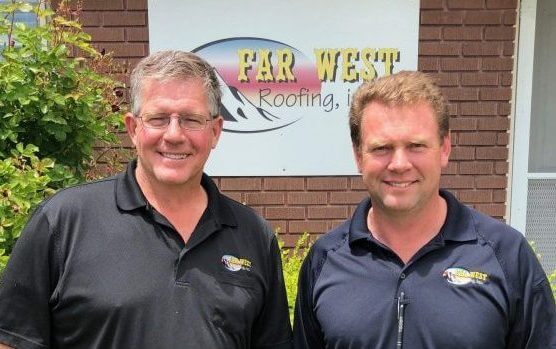 Olin & Doug - Owners of Far West Roofing
Far West Roofing, Inc. Boasts 25 yrs & an A+ BBB Rating
Roofing Services in Park City, Utah, From Far West Roofing
The team at Far West Roofing has more than 25 years of professional experience assisting Salt Lake City-area property owners with commercial and residential roofing projects. Some of the roofing services we are proud to offer to property owners in the Park City area include:
Roof inspections. Our team knows how to identify the signs of a roof in distress. Arrange an inspection with Far West Roofing to determine the state of your roof and options for improving it.
Roof repairs. Whether your roof lost a few shingles during the last windstorm or an ice dam has ripped a whole section of roof covering off your roof, Far West Roofing can repair your roof damage to ensure your roof lasts as long as possible.
New roof installation. If you are building a new property in the Park City area, our team will work closely with you and your other contractors to ensure the first roof is the best roof you ever have over your new property.
Roof replacement. Even the best shingled roofs only last 20 to 25 years, and eventually, every roof needs to be replaced. Far West Roofing will help you determine the most cost-effective solution to your roof replacement project and complete the job as swiftly and safely as possible.
Rain gutter services. Your home's gutter system is an essential component of your roof and your home, protecting it from water damage. When you need your gutters repaired or replaced, or if you would like to have gutter guards installed for easier maintenance, we can help.
These professional roofing services are available to residential and commercial property owners in the Park City, Utah, area. Our team uses the latest tools and methods while putting safety first in every job we accept. If you need a new roof or want to have your roof inspected, Far West Roofing is available to assist you. When you choose Far West Roofing for any roofing project in Park City, you can rest assured we will explain every phase of service as clearly as possible to make an informed decision about your roofing services. Contact us today to learn more about the professional roofing services we provide in Park City.