Utah Rain Gutter Installation, Replacement, Repairs & Cleaning
Rain Gutters are an extension of your roofing system and our team at Far West Roofing are experts installing and repairing rain gutters systems. Superior material in the gutter installation process is only part of the equation. Our expert staff is commitment to the highest standards of workmanship and professionalism.
Why You Need Rain Gutters
Basement Leaks: Clogged gutters are the number one cause of basement water problems due to roof water overflowing and accumulating around the foundation.
Foundation Damage: Excess water can weaken the foundation footing and, excessive water weight constantly pressing against your homes foundation will eventually result in severe cracks in the foundation walls.
Rotted Wood: Water from clogged gutters will spill over the edges causing ugly stains and water damage to the wood fascia and soffit.
Roof Damage: In freezing weather, ice-dams can form on top of clogged gutters allowing snow to build up, across the top of the gutter, and freeze. Then, during the next thaw, water running off the roof may be blocked by the frozen snow and can back up into the house.
Accidents and Liability: Overflowing gutters can deposit water on walks and driveways where, under freezing conditions,  it will create a potentially severe tripping hazard.
Property Damage: Improperly channeled rain gutter run off can lead undermine driveways and walkways, causing them to sag and crack.
Nasty Critters: Debris filled gutters can easily become a nesting place for small animals and the moisture-rich conditions created by clogged gutters are perfect environments for wood destroying insects and mold.
Routine gutter cleaning will protect your home's exterior from stains & water damage
Residential Gutter Cleaning Services
Residential Gutter cleaning service by our experienced team goes beyond a simple cleaning, we inspect and repair any problems that could cause you issues. Cleaning your gutters is among the most important things you can do to maintain the curb appeal of your property. When rain gutter are full of debris they become heavy and get pulled from the facia. This results in damage to your gutters as well as your homes fascia and soffit areas. further more as water overflows, it leaks behind the gutter and can travel into your home in other areas it overflows and stains your siding on its way to pooling to close to your homes foundation.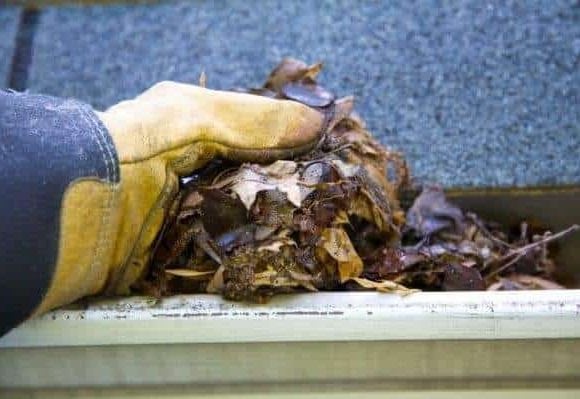 Commercial Gutter Cleaning Services
Most property owners get their gutters cleaned only when they notice a problem with their gutters. By that time, your property may have already suffered water damage. Rain gutters actually provide protection against the harmful effect that the water has on the foundation of your structure as well as keep water from running down your exterior leaving unsightly stains and water damage. The best way to protect your gutters is to clean them regularly. We recommend that property owners clean their gutters annually in the spring to clear out the branches, dirt and other winter debris so that they are ready for the summer months and again in the Fall to clean out all the pine needles, seed pods, helicopters and other wind-blown debris that end up in your gutter system.
Serving Utah for 25 Years. Family owned and operated.