Your Salt Lake City Roofing Company
Professional Roofing Companies: Who We Are And What We Do
Professional roofing companies, such as Far West Roofing, are different from your average roofing contractor, and we do much more than just nail some shingles to a roof. We specialize in both residential and commercial roofing and have years of experience in our craft. For all of the cost that goes into purchasing a home or commercial building, making sure that the roof will protect that building and its occupants from the elements is well worth the investment and will contribute to the overall life of your building or home. And that is the mission of professional roofing companies like Far West. We are here to make sure that your needs come first and that you have a roof that will protect you and your building for years. Whether it's installing a commercial roof, a residential roof, or a repair or inspection, a professional roofing company, such as Far West, is a great choice for a top quality roofing job. Learn more about professional roofing companies in Salt Lake City, as well as some common roofing concerns in this area and how Far West can help meet your roofing needs.   
Why Use a Professional Roofer in Salt Lake City?
Professional roofers and roofing companies offer several distinct advantages to their customers over one off contractors or DIY projects. And especially in Salt Lake City, with our unique weather challenges and harsh winters, using a professional for your roofing almost always turns out a better job. Feel free to visit our section below on Salt Lake specific roofing concerns to learn more about common problems we see in Utah and specifically in Salt Lake and the surrounding areas. 
However,  to understand why a professional roofing company may be a better choice than an individual contractor or a do-it-yourself model, here are several distinct points to keep in mind. 
Safety

Experience

Cost: Time and Money

Detailed Inspection and Installation

Insurance, Warranties

Safety
Safety is of course always a concern in roofing, and many individuals, especially on the residential side, think they can do their own job and forget to think about many potential safety concerns. Falling from a roof can obviously cause serious injury and without proper experience or training, you will likely be more prone to this safety risk. Often, inexperienced roofers become so focused on the job that they neglect to be aware of safety, and this is when accidents happen. However, professional companies have systems and procedures in place to be safe while working on your roof. They also have the experience to know how to do the job so well that they don't have to worry about the specifics of the job and can focus on safety concerns as well as their obligation to you and to their company to work with safe practices.
Experience
Experience is another obvious key factor and if you do not have the experience needed for your type of project, whether that is a commercial or residential roof, please consider hiring a professional instead. No one should have their commercial building be their first roofing project, and for any roof, simple errors can cause leaks or other problems and can shorten the overall lifespan. Professional roofing companies have years of experience doing what they do best, which is installing roofs. Professional companies also generally have more experienced roofers than the individual contractor and can usually provide a better job in less time and lower cost as well than an individual contractor or on your own.
Cost: Time and Money
The reason professional companies can often come in at a lower cost is because they tend to have certifications and relationships with suppliers which will get you better roofing materials at less cost than if you were to buy them yourself. Professionals also tend to be able to evaluate the project and scope faster and are able to complete the job faster as well, which lowers cost both in time and money than going on your own. Self installed work often takes longer due to making mistakes that then need to be fixed later, and can sometimes end in hiring a professional in the end anyway. The key factor here is experience. Without experience, it will be more costly in time and money to obtain the right materials at the right price and get the job done in a reasonable amount of time without making mistakes. We know that many people who are experienced can handle the job just fine. But for those without that experience, it may seem more expensive up front to hire a professional, but it may end up saving you much more in the long run in terms of a faster job with better materials and a longer lasting roof.
Detailed Inspections and Installation
Professional roofing companies in Salt Lake City will typically offer a better quality job than an individual contractor. This is because they will typically offer a more in depth inspection as well as better management of the small details that come with roofing, such as properly installing the roof flashing and other details. With a more detailed inspection you can know exactly what is wrong with your roof and make the right repairs at the right cost instead of misdiagnosing problems and spending more money. And instead of shady contractors who sometimes cut corners, you can make sure that the details are done right with a professional company so that your roof lasts for a long time.
Insurance and Warranties
Lastly, keep in mind that individual contractors may not always carry insurance and we highly suggest only hiring those who do. Most professional roofing companies carry insurance for their employees, making them a safer choice in this matter. Otherwise, if a roofer causes damage to yours or a neighbor's property, there is no protection in that case to help pay for the damage. This may be a rare scenario, but it does happen, and you would not want that rare case to be you.
Some product warranties are also only valid if installed properly and can be void if self installed or installed incorrectly. For this reason, using a professional can help you make sure things are installed correctly and in line with warranty provisions. Professional companies also generally offer a warranty on their work, and here at Far West, where we offer a 5 year workmanship guarantee on new installations. This just gives you added protection knowing that you are getting a top quality job and that any problems we will fix at no cost to you.
Common Roofing Concerns in Salt Lake City
In Salt Lake City we experience a wide variety of roof concerns especially with our cold winters and larger amounts of snow, especially near the mountains in Salt Lake City. At Far West Roofing, we have worked on Utah roofs for 25 years and have a vast amount of experience in knowing how to install and maintain your roof in the best way possible for the wide variety of climates and conditions in Utah.  Here are a couple of common roof concerns that we often see in Salt Lake City and things to keep in mind for caring for your roof
Ice Dams:

These are caused by the cycle of melting and refreezing that often happens in Utah as weather fluctuates frequently in Utah, warming up and then turning cold and causing a vicious cycle of snow melting then turning to ice and blocking snow from running off the roof, damaging shingles and causing leaks. 

Condensation:

This happens when moisture develops in the roof ceiling due to heating of the building and moisture being trapped between insulation and roofing, causing damage to the inside roof structures.  

Roof Flashing Leaks:

Flashing is a thin piece of metal type material that is used to keep water out of any structure that meets the roof line such as windows or chimneys etc. If improperly installed or if using inferior flashing material, this can cause leaks especially during winter time with rain or snow. 

Clogged Gutters:

Clogged gutters can cause water build up on a roof from both rain and snow. In heavy snows, the snow can build up on your roof and cause damage or sinking, especially if the roof has other interior erosion problems. Or during a heavy rain, water can pool on your roof and degrade the roof or cause leaks. Sometimes giant icicles during the winter indicate you may have a problem with gutters or water and snow being able to slide off the roof easily. Or after a rainstorm making sure that your gutters are draining properly can help you diagnose if you have a clogged gutter problem. 
These are just a few of the many concerns that we run into with roofs in Utah and especially in the Salt Lake Area. A lot of these problems can be mitigated through regular roofing inspections by a professional. If you feel you may have a concern to look at with your roof, consider talking to a professional before the issue becomes a large problem and requires extensive repairs. We can offer a thorough inspection of your roof to look at any potential issue and diagnose problems in advance so you can keep your home or building in the best shape possible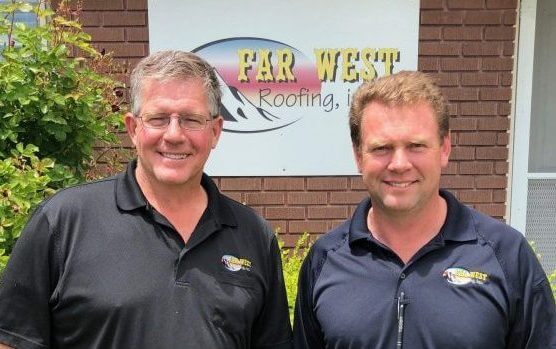 Olin & Doug - Owners of Far West Roofing
Far West Roofing began in 1995 and since that time, we have always strived to treat every customer as our friend. We put your needs first and take the time to make sure we understand your needs, concerns and budget so we can find a solution that works best for you. We are proudly certified with six different quality product manufacturers for roofing materials, which allows us to get you better roofing materials for a better price and a better overall quality installation. We also are proud to say we have won best of state for Utah roofing for several years and have many 5 star Google Reviews. However, while we are proud of those things, what really matters to us is you. We want to use what we do best, installing top notch roofs, to help you to have a roof that will protect you for years to come. Feel free to learn more about us on our website or by giving us a call or filling out the form below. We would love to know how we can help you!
Far West Roofing, Inc. Boasts 25 yrs & an A+ BBB Rating